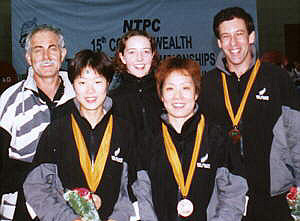 NZ Women's Team at Commonwealth Championships.

L/R: James Morris (Coach), Karen Li, Tracey McLauchlan, Li Chunli, Simeon Cairns (Coach).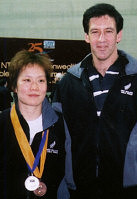 Li Chunli and Simeon Cairns with
Commonwealth Championships Silver
(Women's Singles) and Bronze
(Women's Doubles- with sister Karen) Medals.



John Kiley -
Administration Officer,
of Table Tennis New Zealand,
1993-2001 based in Wellington

---


NZ Men's Team at World Championships
in new Butterfly-sponsored uniforms.
L/R: Aaron Li, Peter Jackson, Shane Laugesen,
Peter Craven, James Morris (Coach)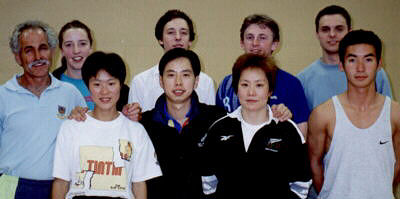 Training Camp for the World & Commonwealth Championships

L/R: Front: James Morris, Karen Li, Aaron Li, Li Chunli, Adrian Soh.
Back Row: Tracey McLauchlan, Samuel Coutolleau (England),
Peter Craven, Mark Addis (Fitness Trainer).