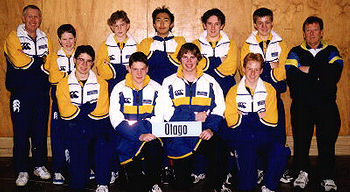 The happy B and C Grade Under 19 and Under 15 Boys teams from Otago at the 1999 New Zealand Championships. Not winners but the C Grade Under 19 team were runners up.
L/R back: Alan Moore (Otago President) Steven Moore, Ben Guy, Yosuke Tao, Stephen Thomas, Daniel Eyre,
Bob Hurr (Coach)
front: David Colwill, Michael Eyre,
Jarrod Stewart, Malcolm Moore.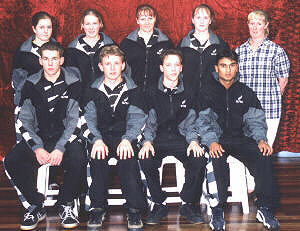 Winners Under 18 Boys and Girls Teams
Australian Open Championships
L/R back: Lisa Boaden, Alison Thomson, Rachel Griffiths,
Deborah Morrison, Mrs Gay Morrison (manager).
front: Paul Stewart, Peter Craven, Greg Burton, Anthony Simmons.

Hall of Fame - inaugural inductions
L/ R: James Morris (Master of Ceremonies), Murray Dunn,
Alan Tomlinson, Russell Algie, Errol Cheal (seated)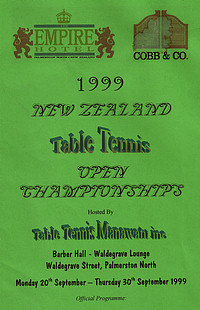 Michael McAvinue.
New Zealand's International Umpire - He has umpired at World Championships, Olympic Games, and Asian, Oceania, Australia and New Zealand Championships.