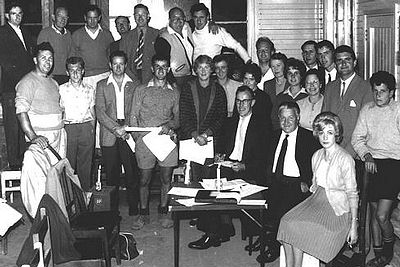 The Annual General Meeting of the Empire Table Tennis Club (HV).
Held in candlelight as their new premises had not then had the power connected.
L/R - Back row: Bill Kilmartin, Ray Giles, Noel Prince, Andy Wood, Jack Capstick, Merv Burns, Jim Hodges. round corner: Dave Hoskins, Rick Carlyon, Peter McLauchlan, Colin Gasson, Richard Whittington.
Middle row: R Martis, Brian Tebbutt, Brian Molloy, Ron Menchi, Val Muirhead, Anna Prince, Joan Brown, Jean Capstick, Lyn Harding, Merle Harding.
Sitting: John Ogilvie (club chairman), Alf Harding (president), Jill Spring (secretary).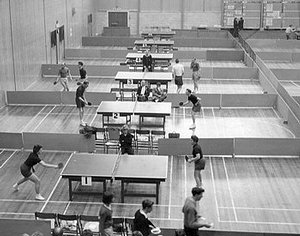 Cowles Stadium Christchurch
NZ Championships