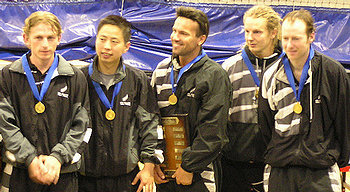 L/R: Peter Craven, Aaron Li, Wayne Gear,
Shane Laugesen, Andrew Hubbard
enjoying their medals after beating Australia at The Oceania Championships

Merle Harding
(1914-2004)
who played regulary till her mid 80s.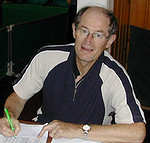 Brian Pearson
Chairman Wellington Association
Busy at Interclub

November 2004 TT INFO magazine envelope stuffing team
L/R: Ron Menchi, Robin Radford, Ian Stawbridge, John Kiley, Jean Radford, Bryan Thomson, Margaret Pitkethley, Sue Lill, Puhi Davis, George Wright, Shirley Ruddell, Merv Allardyce,
Catherine Thomson (not in pic- Val Jarvis, camera duty)



Stickin the labels on!
L/R John Kiley, Peter Havekotte, Ron Menchi, Merv Allardyce, Nancy Havekotte, (not in pic - Robin Radford - camera duty)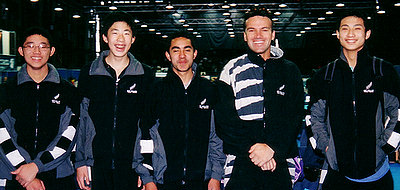 NZ Team to World Junior Championships in Chile
L/R: Nathan Lowe, Binbin Zhu, Josh Alexandre,
Wayne Gear (coach), Andy Huang.