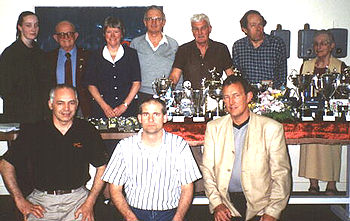 Avonside Table Tennis Club (Christchurch) Committee:
L/R (rear): Andrea Gosney, Trevor Flint (Patron), Nanette White (Life Member), Eddie Moore, Bruce Roskilly, Chris Hills, Marie Zilinski.
Front: Dave Samson, Craig Griffiths, Gavin Tweedy (life Member).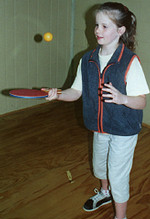 Aimee Cross
learning control in Kiwi Table Tennis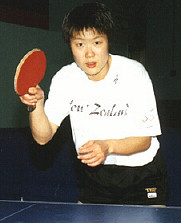 Karen Li
NZ Representative

Junior Boy's team to Taiyuan International Junior Championships in China.
L/R: Helen Codlin (manager), Binbin Zhu, Jack Wells, Chris Erskine,
Andy Huang, Nathan Lowe, Aaron Li (manager/coach), Simon Wallace.
Veteran Players gather at the Empire Club.
L/R: Bruce Mills, Brian Wilkins, Oea Burnett, Averil Roberts,
????, ????, Jim Delahunty