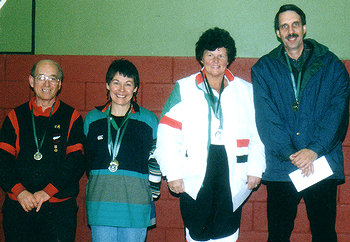 L/R: John Lelliott, Yvonne Fogarty, Val Beaver, Doug Pattinson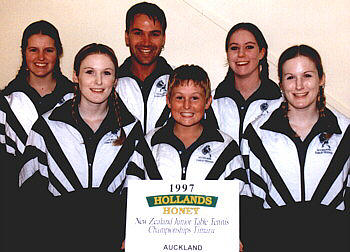 Auckland Under 19 Girls' A team
L/R: Amber Johnson, Anna Danby, Wayne Gear (manager), Karen Burgess, Hayley O'Neill, Catherine Danby
Auckland Under 15 Boys' team - Grade winners:
L/R: Jimmy Lin, Oscar Elwell, Adrian Soh, Wayne Gear (manager),
Frank Tsai, Allen Tsai.
Auckland Under 15 Girls' A team

L/R: Francesca Collins, Bridgette Carmody, Jenny Brewerton.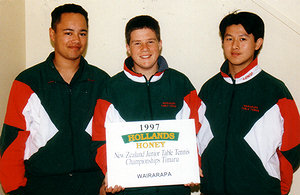 Wairarapa Boys team
L/R: Kingi Ruhe, Liam Orange, L Leu
Thanks to Table Tennis South Canterbury
for the 1997 nzopen photos supplied.